Use Loop & Tie's recipient upload tool to import an existing list or build a new one.
A few tips:
The only required fields are "Full Name" and "Recipient Email".
All gifts receive a scheduled send date and time, which you can define using the "Send On Date" field. Please note that if you don't enter one, your gifts will be sent immediately.
You can have a different message, subject line, and "Signature" name for each recipient in your list. If you leave these fields empty, all recipients will receive the content you defined in the "Design" stage of the flow.
You can upload up to 500 recipients at a time.
Where do I upload a recipient list?
After you select your collection and design your card, you'll be taken to the "Recipient" screen. Click the "Import Recipients" button to open the importer tool.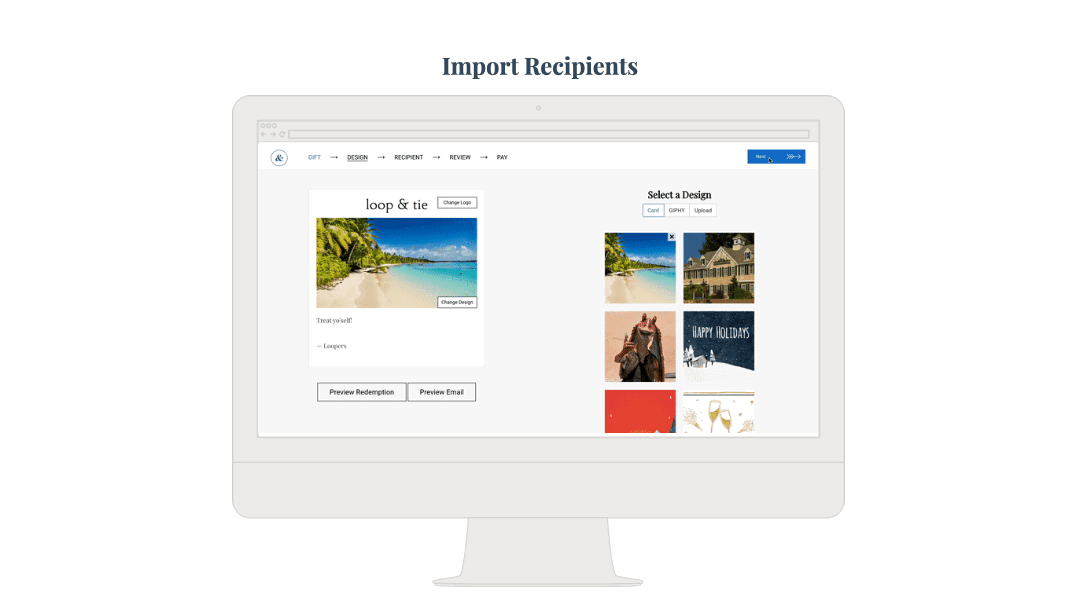 There are three ways to upload recipients using the importer tool:
If you have a contact list you exported from a different tool, like Salesforce, you can upload it here.
If you don't have an existing list, you can click the "Download Template" link to start a new one from scratch.
You can also enter the recipients one by one using the spreadsheet provided on the "Import Recipients" page.
Viewing the template or the "Import Recipients" spreadsheet is also a great way to get acquainted with the fields that are available for each send!
What file formats are accepted?
Loop & Tie currently accepts spreadsheets in .csv, .tsv, .xls, .xlsx, .xml, and .txt formats.
Excel "Macro-enabled" workbooks (.xlsm) are currently not supported, so if your data is in this format, please "Save As" .xlsx or .xls before uploading.
What's next?
After uploading, you'll have a chance to indicate the header row so the importer knows which columns to match.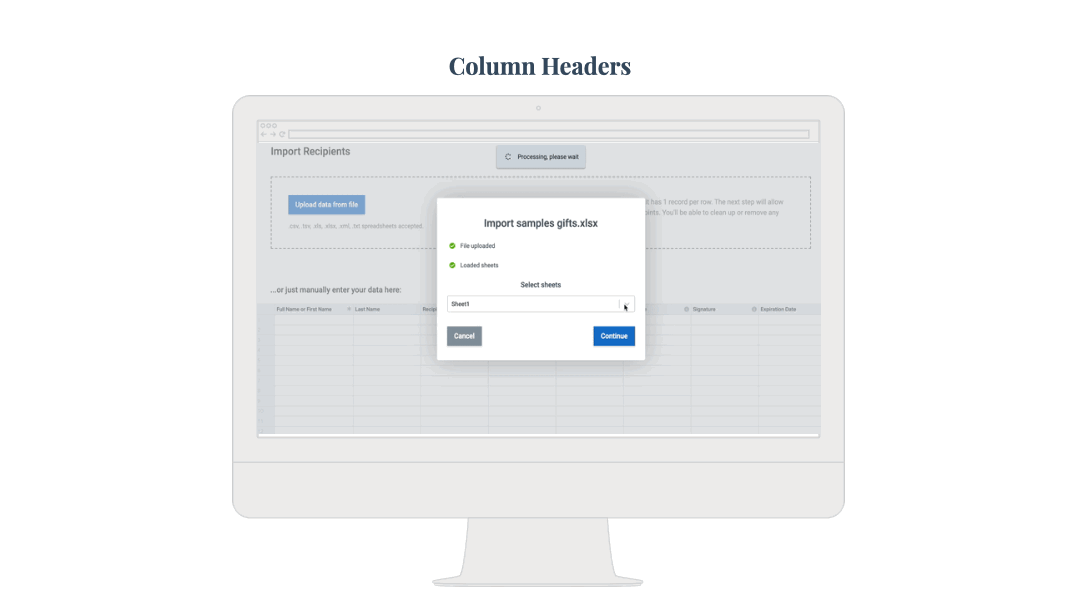 Then you'll be taken to a "mapping" stage where you can match the data in your spreadsheet to the data Loop & Tie needs to send your gifts to the right recipients. For example, if your list has a column called "Contact Email", the system needs to confirm that this column contains the data you want to use for "Recipient Email":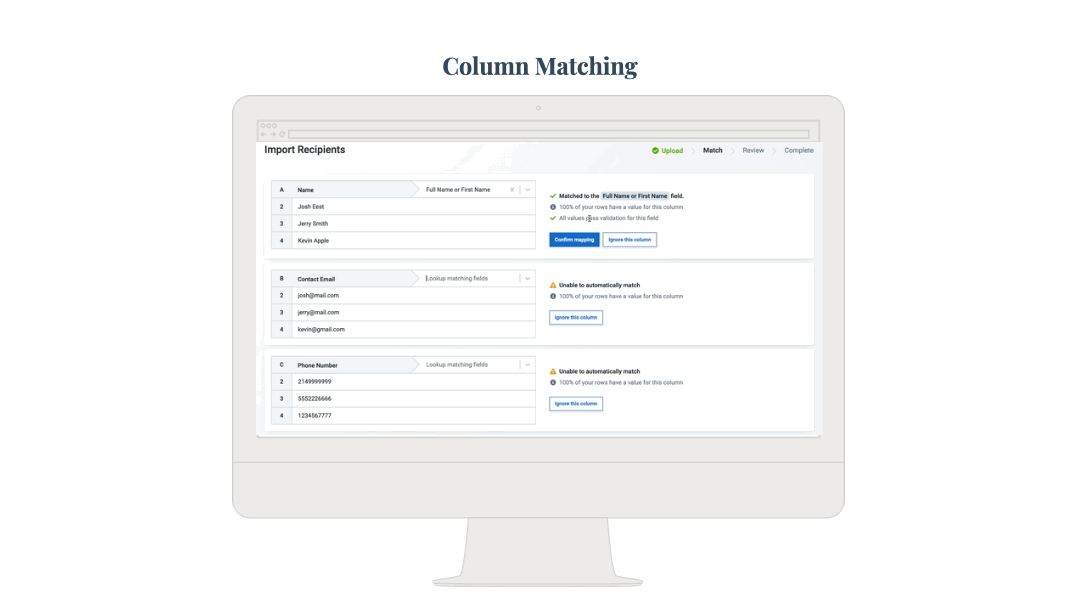 The importer tool learns from previous lists that you've imported so this stage should get faster and faster the more you upload recipients.
What if there are errors in my data?
The final stage is the "Review" stage, where you can view and address any errors flagged by the system.
The importer checks to ensure the following:
Every recipient has a name
Every recipient has an email address in a valid format
No "Send On Date" is in the past
No expiration dates are more than one year in the future from the "Send On Date"
The "Only show rows with problems" switch at top left can be toggled on to easily isolate any issues.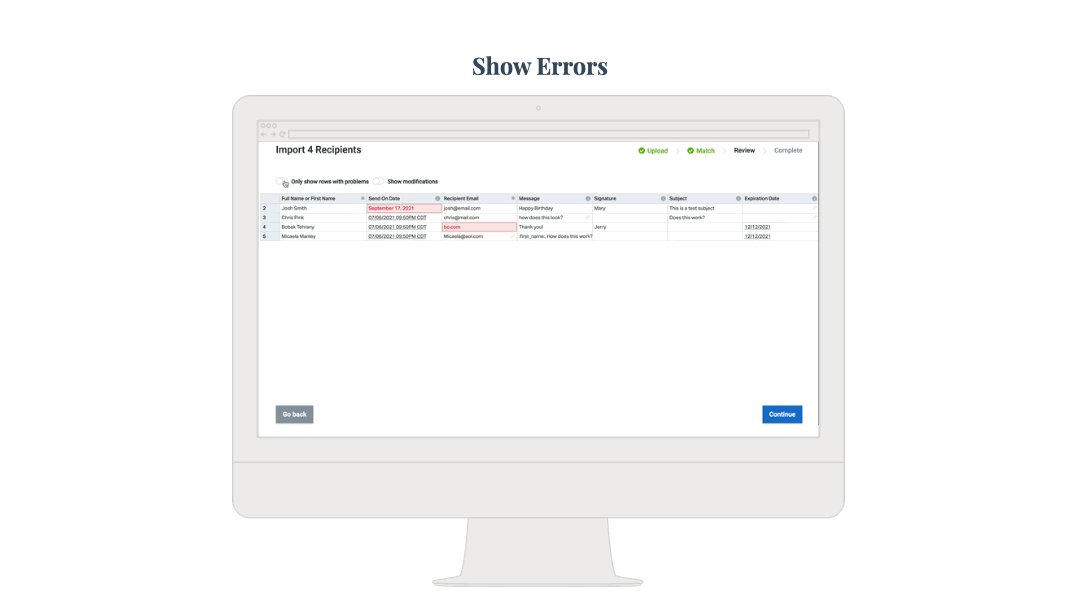 That's it—once you have reviewed your data for errors, you can click "Submit" to upload your data, and you're done!