I want to know who redeemed the gift I sent, what they selected, and what they picked.
The Recipient Activity Report
Loop & Tie's Recipient Activity Report lets you track (1) who sent the gift, (2) recipient information, (3) when/if it was redeemed, (4) any scheduled reminders for unredeemed gifts; (5) whether a thank you note was received for redeemed gifts; (6) and what gift they selected.
How to get there:
Select "Reports" from the sidebar.
Click on "Recipient Activity."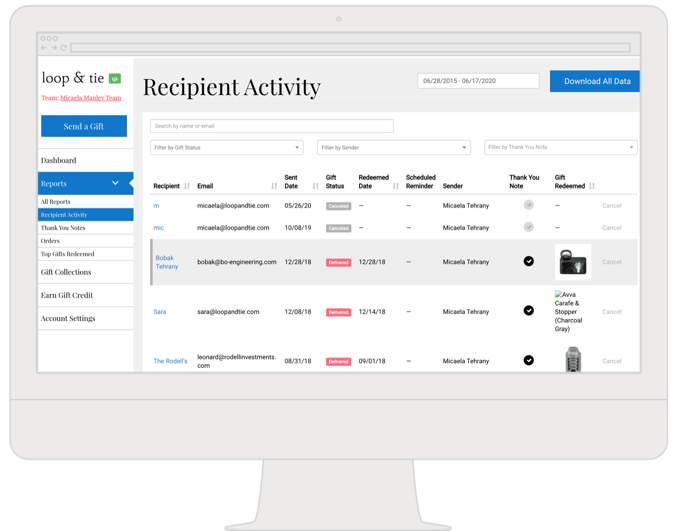 What does Gift Status Mean:
Gift status shows you what stage each gift you sent is in, based on the recipient. The stages are as follows:
Scheduled: if your gift is scheduled for a time in the future.
Sent: your gift email has been sent.
Opened: your gift email was opened by the recipient.
Redeemed: the recipient selected a gift.
Shipped: the gift has been shipped.
Delivered: the gift has been delivered to the recipient.
Bounced: your gift email bounced.
Canceled: you canceled the gift before it was redeemed.
Declined: the recipient politely declined the gift.
How do I filter this report?
You can search the report for a particular Recipient by entering their name or email address in the search bar. You can filter the report by:
Gift Status
Gift Sender
Whether a Thank You Note was received or not.
Date range

How to clear filters:
To clear filters, you can manually delete the filters in the field. To clear all filters, you can refresh the page.
How do I see activity for just one recipient?
You can click into a recipient's name to see their activity for the gift you sent.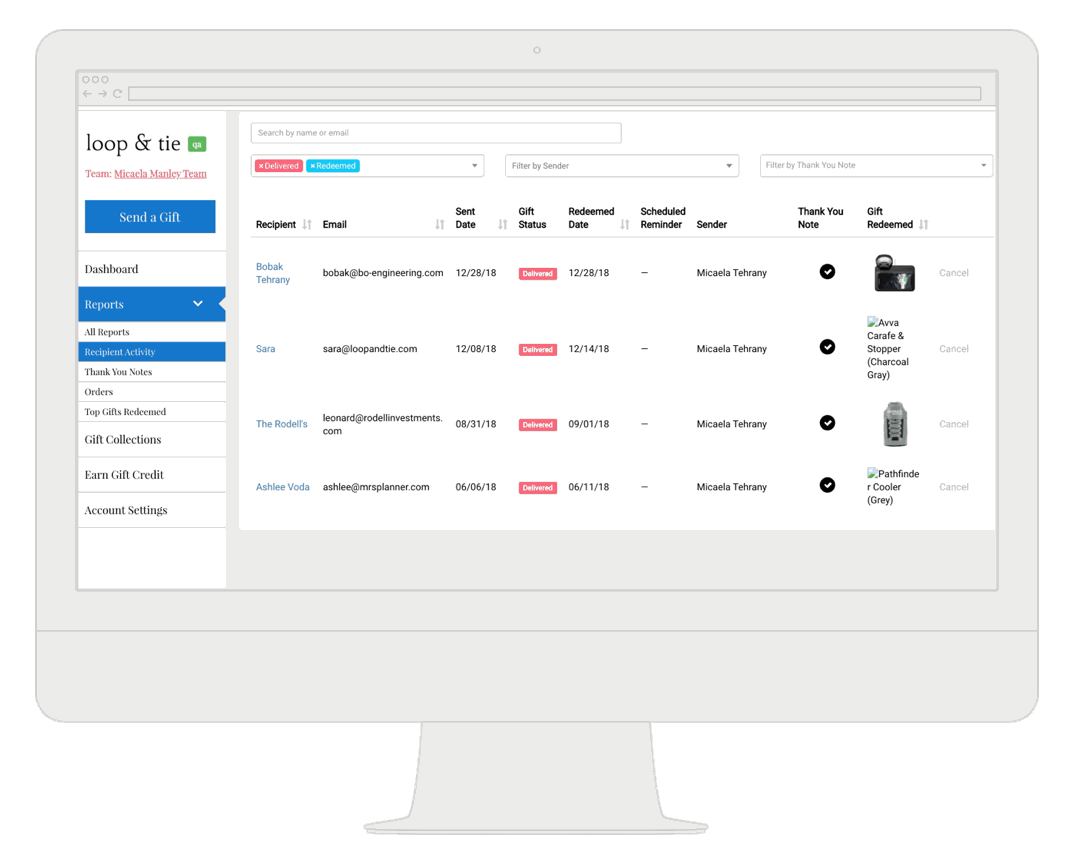 Can I schedule a reminder?
Loop & Tie has pre-set, automated reminders for any recipients that have not yet redeemed a gift. If the recipient has not redeemed a gift, you can see when the next reminder is scheduled for. At this time, we don't allow customized settings for reminder emails.
How do I know if a recipient sent me a Thank You note?
In Recipient Activity, you can filter the report by Thank You note received or not; you can also look at the Thank You note column: if the column has a darkened checkmark, a Thank You note was received. To learn more about how to view and respond to Thank You notes, click here.
How do I know which gift was redeemed by my recipient?
If a recipient redeemed a gift, you can see in the column titled "Gift Redeemed." You can also click into the recipient's name to see more details on what collection was sent and which gift was redeemed.
How do I download this data?
By clicking the button "Download all data" on the top right-hand corner, you can download a CSV file of all the data in your dashboard. At this time, you cannot set filters for the data being downloaded.